Hi Everyone
Welcome to my half-way project for Challenge #23, the theme is "Ribbons and Pearls" and the sponsor for this month is the fabulous Crafty Ribbons
Here is a little bit about them.
"If you buy any more ribbon, you will have to sell some to get the money"
This chance remark in 1996 was the catalyst that prompted Ali to start Crafty Ribbons, which she runs together with her husband Tony. Crafty Ribbons aim is to offer ribbon lovers and crafters a wide, varied and interesting choice from some of the worlds best ribbons, at affordable prices. We also design and manufacture our own range of ribboncraft kits, including ribbon embroidery, weaving, mitred patchwork, teddy bears, and cushions.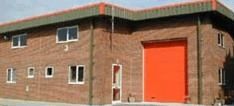 Crafty Ribbons operates out of its own modern warehouse building, situated on the outskirts of Blandford Forum in Dorset, England. It is an Aladdins cave of delights. We believe that down Tin Pot Lane is probably to be found one of the finest collections of ribbons available.
Primarily we sell our ribbons from comprehensive displays, on stands at the major retail shows in the UK and France associated with hobbies and crafts, including sewing, knitting, needlecraft, embroidery, quilting, card making and scrapbooking.
So welcome to the wonderful and versatile world of ribbons - silks, satins, sheers, ombres, wire edge and much much more - A true Ribbon Emporium.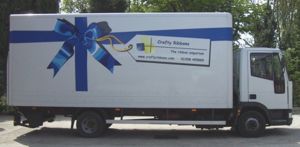 The Crafty Ribbons lorry... probably one of the largest wrapped parcels ever. If you see us out and about, give us a wave
And the prize is a £10 voucher .
Here's my project….
This time I have kept it nice and simple for a wedding congratulation card using the fab spotted organza ribbon from Crafty Ribbons. Their ribbons are fantastic quality and they have a huge selection of designs to choose from.
I have take a 6" square card blank. Cut a piece of white card to 5 3/4" square and embossed it with a folder and glued in place. Next take some grey paper cut to 5" square and cut it in half and then with the two pieces together I cut an arch shape. Using a hole punch and measuring evenly along each curved edge, punch the lacing holes. Stamp the swirl image using Versamark to give a watermark look.Glue the panels into position on card front leaving the curved edge free. Lace the ribbon through the holes. Add pearl trim along the edges and add a greeting to finish. Voila!
What Was Used
Crafty Ribbons
Embossalicious Regal Swirl 8" x 8" Folder
Heartfelt Creations Feather Grass Flurish Pre Cut Set – HCPC 3435
Hobbyhouse Beaded Pearl Trim
Versamark Ink
Inkydoodles Stamps Set – Celebrate
Now it's your turn and we are so looking forward to seeing what you come up with. xx
The challenge this month will end on 30th March at 8pm. Good Luck!
And if you don't have your own blog , don't worry , remember we have a Facebook Page for you to post your entry onto. https://www.facebook.com/pages/Crafting-Musketeers-Challenge-BLOG/320703981385124
See The Crafting Musketeers blog for challenge rules and lots of inspiration from the Design Teams.
We hope you have been inspired.
Thanks
for
Popping By
xx